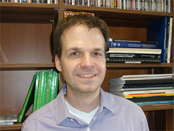 Dipl.-Ing.
Head of Laboratory
Institute of Geography
Johann-Joachim-Becher Weg 32
Building 1272, Room 00-132
Phone: + 49 6131 39-20955
E-mail: kochbeck@uni-mainz.de
Professional stations
Since 2010 Head of Dendro Laboratory, Department of Geography, Johannes Gutenberg University, Mainz
2007 - 2010 Mitsubishi Polyester Film GmbH, Analytical Laboratory - Research & Development, Wiesbaden
2005 - 2007 Regierungspräsidium Stuttgart (District Government), Department of Environment
2000 - 2005 Forschungszentrum Karlsruhe (today's KIT) - Helmholtz Association, Institute for Instrumental
Analysis
1999 Diploma in Physical Engineering with emphasis on biotechnology and environmental engineering.
Thesis: Chemische Prozeßkontrolle an einem Anaerobfermenter. University of Applied Sciences, Iserlohn. Qualification: Diplom-Ingenieur (FH)
Publications
2022
Hartl C, Schneider L, Riechelmann DFC, Kuhl E, Kochbeck M, Klippel L, Büntgen U, Esper J (2022) The temperature sensitivity along elevational gradients is more stable in maximum latewood density than tree-ring width. Dendrochronologia 73, 125958. (Hartl_2022_Dendrochronologia.pdf)
2019
Björklund J, et al. (2019) Scientific merits and analytical challenges of tree-ring densitometry. Reviews of Geophysics 57, 1224-1264. (Björklund_2019_RevGeophys.pdf)
Klippel L, Hartl-Meier C, Lindén J, Kochbeck M, Emde K, Esper J (2017) Hourly Resolved Climate Response of Picea abies beyond its Natural Distribution Range. Baltic Forestry 23(3): 556-563. (Baltic Forestry.pdf)
Conference proceedings
Arnold C, Kochbeck M, Goschnick J (2004): Percussion probe equipped with the Karlsruhe Micronose KAMINA for rapid online soil analysis of volatile pollutants. Technical Digest of the 10th Internat. Meeting on Chemical Sensors, Tsukuba, J, July 11-14, 2004, Chemical Sensors, 20 (2004), supplement B, S. 724-725.
Goschnick J, Andlauer W, Harms M, Kochbeck M, Körber R (2002) On-site soil screening for volatile pollutants with an electronic nose. ENVSENS Workshop, Santa Cesarea Terme, Lecce, I, May 27-29, 2002. EUROSENSORS XVI; Praha; CZ; Sept. 15-18, 2002. (Goschnick_2002_Eurosensors.pdf)
Harms M, Kochbeck M, Goschnick J (2002) A small airship equipped with an electronic nose as screening instrument for gas sources. 9th International Meeting on Chemical Sensors, Boston, Mass., July 7-10, 2002
Körber R, Harms M, Kochbeck M, Goschnick J (2002) On-site soil screening with an  electronic nose in manual operation and mounted on an airship. 9th International Symposium on Olfaction and Electronic Nose (ISOEN 02), Roma, I, Sept. 29 - Oct. 2, 2002.
Andlauer W, Kochbeck M, Körber R, Goschnick J (2001) Mobile odour testers for soils or granular materials. Breh W [Hrsg.]. Field Screening Europe: Proc. of the 2nd Internat. Conference on Strategies and Techniques for the Investigation and Monitoring of Contaminated Sites, Karlsruhe, May 14-16, 2001. Dordrecht u.a.: Kluwer Acad. Publ., 2002, 127-132. (Andlauer_2001_FSE.pdf)
Andlauer W, Kochbeck M, Körber R, Goschnick J (2001) Locating pollutants in soft soils and testing the odour quality of granular materials with a new mobile electronic nose insertion probe. Eurodeur Airodeur 2001, Paris, F, June 19-21, 2001.
Andlauer W, Kochbeck M, Körber R, Goschnick J (2001) In-depth testing of soils and granular materials with a mobile electronic nose. 9th International Conference On-site Analysis (ONSANA 2001), Amelia Island, Fla., Jan. 21-24, 2001.